Life expectancy in Hungary increased fairly steadily before the Covid-19 pandemic, yet it remains almost five years below the EU average. Between 2019 and 2020, life expectancy fell temporarily by nearly 10 months because of the Covid-19 pandemic, a reduction similar to the EU average.
To maintain care continuity throughout the pandemic, new regulations on telehealth were introduced; nevertheless, levels of unmet medical needs rose. In response to persistent workforce shortages, in 2020, the government announced a new public sector employment contract, including a 120% pay increase for doctors by 2023.
Hungary's health status
Life expectancy in Hungary grew by nearly two years between 2010 and 2019, before temporarily falling by 10 months in 2020 as a result of the Covid-19 pandemic, roughly the same reduction as in the EU overall. In 2020, the average person in Hungary lived nearly five years less than the EU average.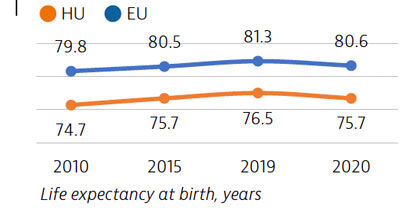 Risk factors
Behavioural risk factors account for approximately 50% of all deaths in Hungary. Compared to other EU countries, Hungary has relatively high levels of excessive alcohol consumption among both adolescents and adults. The proportion of adults who are obese is also greater than the EU average.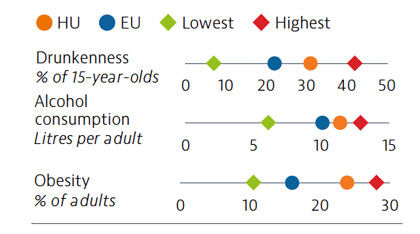 Hungary's health system
Health spending in Hungary increased at a moderate rate in the years before the pandemic, but remains below the EU average both in terms of spending per capita and as a percentage of GDP. Public funding accounts for two thirds of all health care spending, which is below the EU average of 80%, leading to high levels of out-of-pocket spending. During the pandemic, the government introduced substantial wage increases to stem the outflow of health professionals from the public sector.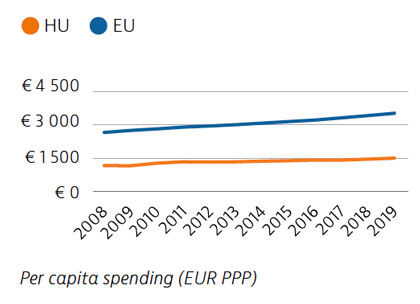 Effectiveness
Mortality rates from preventable causes in Hungary were the highest of any EU country before the pandemic, highlighting the need to reduce behavioural and other risk factors. Deaths from treatable causes were also far above the EU average, reflecting issues with the quality of health services.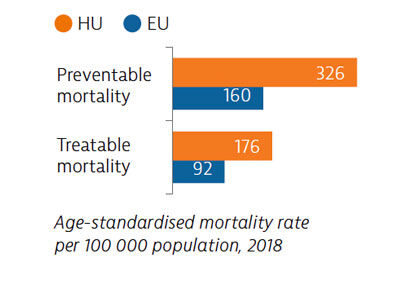 Accessibility
Levels of unmet medical needs are low in Hungary but rose temporarily in 2020: within the first 12 months of the pandemic, one in three people recorded unmet needs compared to one in five across the EU as a whole. Telemedicine facilitated access to care during the pandemic, with 45% of people attending a consultation online compared to 39% for the EU average.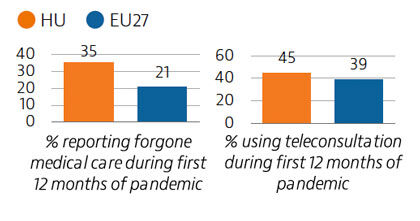 Resilience
The number of workers and hospital beds increased to cope with pandemic demands. Simultaneously, the country introduced polices to free up existing resources, such as reserving a proportion of hospital beds for Covid-19 patients, resulting in delayed care for some non-Covid patients. Vaccination rates were relatively high at the beginning of the rollout but slowed afterwards.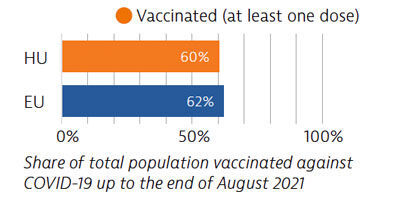 OECD/European Observatory on Health Systems and Policies (2021), Hungary: Country Health Profile 2021, State of Health in the EU, OECD Publishing, Paris/European Observatory on Health Systems and Policies, Brussels.