Life expectancy in Austria is higher than the EU average, but fell sharply in 2020 due to Covid-19 deaths.
While the Austrian health system generally provides good access to high-quality care, the Covid-19 pandemic underscored some structural issues, including the need to pursue reforms to overcome fragmentation and strengthen primary care.
A strong digital infrastructure offers Austria the potential to build a more integrated and resilient health system.
Austria's health status
Although life expectancy in Austria in 2020 was more than half a year higher than the EU average, it fell by 0.7 year compared with 2019 because of the Covid-19 pandemic. Even before the pandemic, gains in life expectancy in Austria had slowed considerably between 2010 and 2019.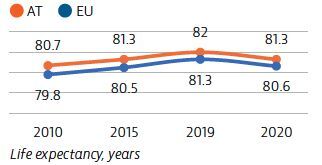 Risk factors
About 40% of all deaths in Austria in 2019 can be attributed to behavioural risk factors. Tobacco consumption among adults has fallen but remains slightly higher than the EU average. Alcohol consumption among adults in Austria is the second highest in the EU. Heavy alcohol consumption among adolescents is also higher than the EU average.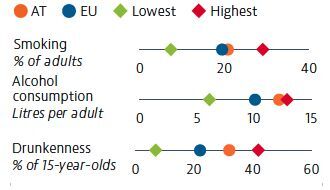 Austria's health system
Spending on health per capita in Austria was the third highest in the EU in 2019. Austria spends substantially more than most countries on hospital inpatient care, while spending on prevention is lower than average. It also has relatively high numbers of physicians and hospital beds. While three quarters of all health expenditure is publicly funded, direct out-of-pocket spending by households is higher than the EU average.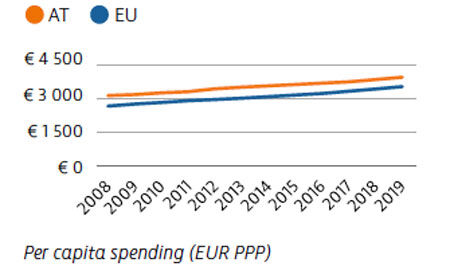 Effectiveness
Mortality from preventable and treatable causes in 2018 was lower in Austria than the EU average. Nevertheless, Austria lagged behind many other EU countries on preventable mortality, suggesting that more could be done to scale up prevention and reduce risk factors for cancer and other leading causes of death.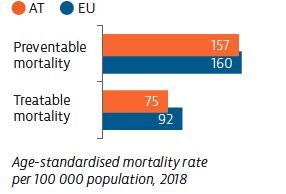 Accessibility
Access to healthcare is good in Austria, although Covid-19 created barriers to access. One in eight Austrians reported that they had forgone care during the first 12 months of the pandemic. Digital services helped to maintain access to care during the Covid-19 crisis: 35% of Austrians reported that they used teleconsultation services during the first year of the pandemic, which was slightly lower than the EU average.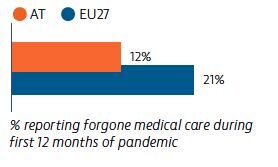 Resilience
Between March 2020 and August 2021, confirmed Covid-19 case numbers in Austria were similar to the EU average, although the death rate was lower. By the end August 2021, more than 60% of the population had received at least one dose of a Covid-19 vaccine, and 57% had received two doses or the equivalent. These proportions were close to the EU average.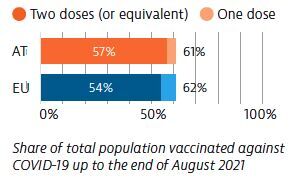 OECD/European Observatory on Health Systems and Policies (2021), Austria: Country Health Profile 2021, State of Health in the EU, OECD Publishing, Paris/European Observatory on Health Systems and Policies, Brussels.