The health status in Germany has improved over the last two decades, and life expectancy remains above the EU average despite the temporary reduction registered in 2020 that was caused by the Covid-19 pandemic.
Infection and death rates from Covid-19 in 2020 were lower in Germany than in most other EU countries. When measured as a share of GDP, health spending in Germany is the highest in Europe. The health system offers a generous benefits package, high levels of service provision and universal access to relatively high-quality and effective care. The Covid-19 pandemic revealed the challenges faced by federal systems in coordinating and managing such outbreaks.
Germany's health status
In 2020, Germany registered a life expectancy of 81.1 years – six months above the EU average but still somewhat lower than in EU countries with the highest levels. The Covid-19 pandemic had less of an impact on life expectancy in Germany than in the EU as a whole, having fallen by 2.5 months in 2020 compared to an average of just over eight months across the EU. The leading causes of death in Germany in 2019 were ischaemic heart disease, stroke and lung cancer.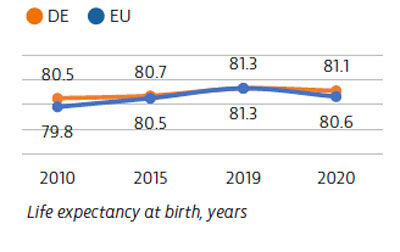 Risk factors
Around one in five adults smokes on a daily basis in Germany. While smoking rates have been declining, the growing popularity of e-cigarettes, particularly among young people, is a cause for concern. Adult and adolescent obesity rates are growing, and alcohol consumption among adults and 15-year-olds is considerably higher than the EU average.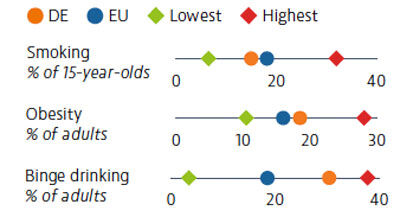 Germany's health system
In 2019, Germany spent €4,505 per capita on health – the highest among EU countries, and 28% more than the average (€3,523). Germany also spends a greater proportion of its GDP on health (11.7%) than any other EU country. The majority of health spending comes from public sources; out-of-pocket payments amount to only 12.7%, which is well below most other EU countries.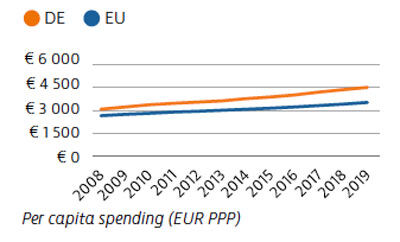 Effectiveness
Mortality from preventable causes is lower in Germany than in the EU as a whole, reflecting the country's effective public health and primary care system. Germany also has lower rates of death from treatable causes, owing to good access to effective treatments.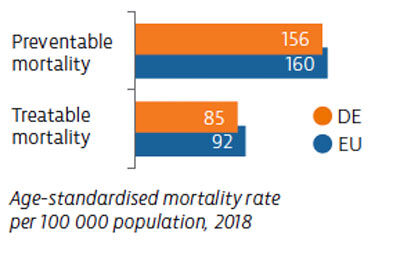 Accessibility
Access to care is generally good in Germany. Historically low rates for unmet needs rose during the Covid-19 pandemic when many non-urgent services were cancelled or postponed. One in seven people reported that they had to forgo needed care in 2020. However, the use of teleconsultations increased during the pandemic.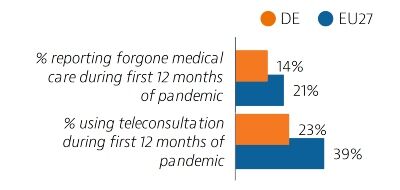 Germany's resilience
Despite well prepared health infrastructure and resources, Germany scaled up testing and laboratory capacities, intensive care unit beds and the health workforce. By the end of August 2021, around 60% of the population had received two Covid-19 vaccine doses.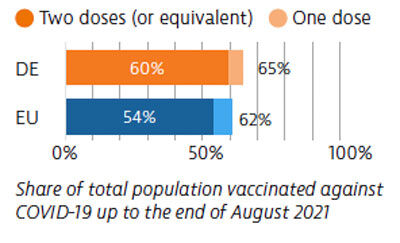 OECD/European Observatory on Health Systems and Policies (2021), Germany: Country Health Profile 2021, State of Health in the EU, OECD Publishing, Paris/European Observatory on Health Systems and Policies, Brussels.