Support for the development of this article was provided by Sight Diagnostics
Despite a global trend of decentralised healthcare, robust complete blood count (CBC) diagnostics remain in central laboratories. Sight Diagnostics presents a groundbreaking alternative – Sight OLO®, an AI-driven haematology analyser that enables decentralised healthcare with lab-grade accuracy and speed at the point of care.
With the rise of telemedicine and home-based care, healthcare is increasingly becoming decentralised. And due to the recent challenges catalysed by the COVID-19 pandemic, this need for patient-care models outside of traditional hospital settings has intensified – calling for innovative care pathways, especially in decentralised locations.1
Although most diagnostic technologies – blood gas, urinalysis, blood glucose monitoring, infectious markers, etc – have transitioned to various point of care (POC) offerings, CBC testing still occurs in laboratories with high operational overheads. This is primarily due to technical limitations requiring highly trained operators and expensive laboratory equipment with a special set-up for daily quality control, calibration, reagent management and liquid waste disposal. But given the ubiquitous nature of CBCs, the lack of fast and accurate CBC analysers in POC settings prevent care modalities from providing the best treatment.
According to Tony Cambridge, the lead biomedical scientist in the pathology management team at the University Hospital Plymouth NHS Foundations Trust, the healthcare community is on the cusp of a pivotal breakthrough to bring testing closer to patients. Cambridge further asserts that community-based diagnostics – if stewarded correctly – can reform problems in the health services landscape, such as growing waiting lists, care delays, accumulating costs and undesirable patient outcomes.1 Since legacy haematology processes are rife with similar limitations and CBCs play such a critical role in ensuring adequate care, there is an urgent call for CBC diagnostics to join in the decentralised healthcare movement by reimagining the clinician–patient experience.
Diagnostics offered closer to the patient are in no way designed to undermine the service provided by pathology laboratories, but to enhance it, and safeguard optimal care for the patient. Used in an appropriate way, decentralised testing can reduce pressure on support services, such as pathology and phlebotomy, by redirecting workload to other workstreams, preserving the laboratory testing for specialist and urgent hospital cases.
Tony Cambridge, lead biomedical scientist in the pathology management team, blood sciences and point of care testing at the University Hospital Plymouth NHS Foundations Trust1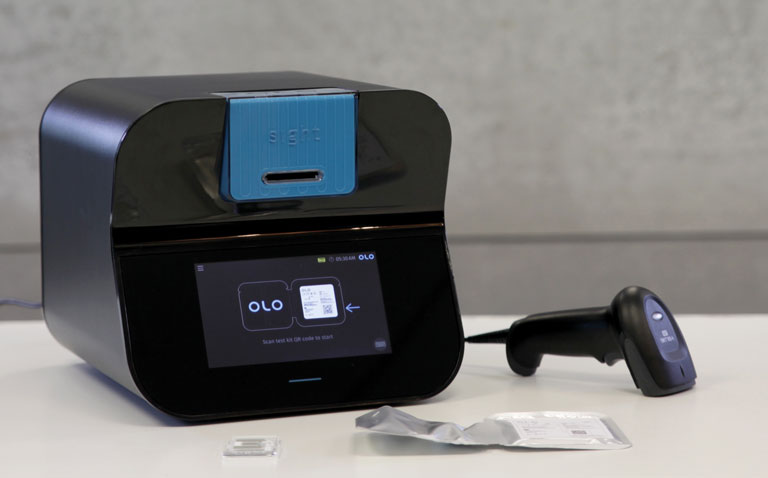 Important considerations for the adoption of CBC technology in decentralised settings
To enable care providers to efficiently and effectively run their operations while providing high-quality treatment to patients whenever – and wherever – there are a few standards POC CBC technology needs to uphold:
Achieving high accuracy for all CBC parameters
Currently, the majority of POC CBC analysers are miniature versions of legacy analysers. However, due to the simplification required to downscale this technology, the accuracy often gets affected, resulting in only a few FDA clearances for POC CBC analysers of late.2 Consequently, additional tests are required to confirm the accuracy of the test results, causing the drawing of more blood, which in effect delays – rather than speeds up – the entire process.
Sight OLO is an innovative haematology system designed to address these current limitations in POC blood diagnostics (Figure 1). By leveraging innovations in physics, optics, sample preparation, and AI-driven computer vision technology, the self-contained quantitative multi-parameter analyser digitises blood samples to deliver five-part differential CBC results with 19 parameters and sophisticated flagging capabilities at the point of care.
During a Sight study published in July 2021, the accuracy of OLO was compared with the Sysmex XN-1000 System. Samples – covering a broad clinical range for each tested parameter from 355 males (52%) and 324 females (48%) aged 3 months to 94 years – were analysed. The regression analysis results showed a consonance in correlation coefficient and slope, bias and intercept between OLO and Sysmex XN. Therefore, the study concluded that OLO performs with lab-grade accuracy for all CBC parameters (Figure 2).
Prioritising sampling convenience, accessibility and turnaround time
Traditional blood testing requires a phlebotomist to draw vials of blood through venipuncture – a time-intensive and highly skilled process – which can pose challenges in near-patient settings. Thus, for CBC testing to work in decentralised conditions, the system's sample preparation process must empower care providers, not necessarily skilled phlebotomists by trade, to effectively sample a patient's blood. Additionally, it is essential for the sampling methods to be accessible to sensitive patients in delicate situations, i.e., babies (older than three months), elderly patients with difficult veins and patients with mental health problems (especially patients diagnosed with schizophrenia).
Sight OLO is the first CBC analyser that is FDA 510(k) cleared for blood taken directly from a finger prick. Each test requires just two drops of blood from a finger prick, making OLO convenient for healthcare workers and accessible to sensitive patients aged three months and above. Furthermore, operators can complete this sampling process in under one minute and obtain the full results in minutes.
Amid one study conducted in November 2020 in an oncology day centre in Israel, Sight evaluated OLO's accuracy for finger prick samples across the OLO reportable range. The study results showed high correlations between the finger prick results of OLO vs the venous results of OLO (Table 1). During the study, Sight also tested the device's turnaround time compatibility to the centre. An OLO and Beckman Coulter DxH800 (the centre's current system) comparison revealed that OLO decreased the average time from phlebotomy to CBC results by 45%.
Scaling CBC technologies for decentralised settings
When traditional CBC analysers are merely miniaturised, they often inherit "many of the product attributes of their larger relatives, including the requirements for liquid reagent replacement, washout and calibration procedures, and frequent quality-control processes which in the POC context can be limiting or prohibitive."2 Therefore for CBC technology to scale for use in decentralised environments, all the accompanying attributes must be addressed.
Sight OLO is perfectly suited for POC in various clinical settings. It has a small footprint (284mm x 254mm x 323mm), and the analyser comes factory calibrated for a quick set-up, requires no maintenance or quality control*, and only needs a power outlet. Hence the device requires no scheduled downtime, is always "on" without needing time to warm up or shut-down and does not necessitate a skilled lab technician to operate the device. Additionally, OLO uses one disposable cartridge per test, which can be stored without refrigeration and has a shelf life of over a year. thus eliminating the need for reagent procurement, hazardous material storage and liquid waste disposal, rendering the device suitable to be placed on any stable surface.
*There is no manufacturer requirement for QC. Additional QC may be required according to local regulations
At the beginning of 2019, Sight conducted a usability study to test the ease of usage and training and determine users' consequent understanding of the Sight OLO system. "In this observational study, 16 participants, representing a wide variety of potential operators, easily, safely, and effectively performed all critical tasks for the intended use of the OLO device when provided with the level of training and documentation provided in standard commercial use".3 During the usability study, Sight also concluded that OLO's internal Failsafe designs — to mitigate significant risks and operator errors — are all adequate and effective. And that "no use errors, task failures, or user interface shortcomings encountered will lead to an unacceptable level of harm to the patient, environment, or operator."3
For ease of oversight at decentralised locations – beyond Sight OLO's internal Failsafe mitigations, ease of use and training – OLO's technology also enables lab managers to set different access permissions for various operators with varying experience and trace operator activities.
Reimagining CBC blood diagnostics
It has become evident that for CBC testing to work in decentralised settings, it is vital to reimagine the entire CBC diagnostics principle.2 As an innovator, Sight Diagnostics investigated how legacy laboratories utilise microscopists to review out of range or invalidated results produced by their analysers. To address these limitations and ensure high quality and consistent results, Sight created a digital microscopy approach with an AI-trained algorithm. After years of research, Sight Diagnostics' use of computer vision and AI represents this digitised CBC leap within the POC space, consequently eliminating unnecessary reflex and wasted time.
According to Yossi Pollak, the co-founder and CEO of Sight Diagnostics, OLO's system takes two drops of blood and automatically creates a monolayer of cells within the self-contained cartridge. Once the specimen cartridge is placed inside the analyser, the device captures over 1000 images within minutes, turning the blood sample into a set of high-resolution digital images. Then – in real-time – the device uses AI to classify, enumerate and identify anomalies in the blood samples to produce the final CBC results.4 Imagine the same microscopist all day, every day, providing gold standard results; that's OLO.
Building on Sight OLO's excellent performance in POC settings, Sight constantly evolves OLO's AI-powered CBC models as well as exploring ways to expand on the application of OLO's underlying technology. For example, machine vision-based technology enables the digitalisation of blood samples into image data. This image data will continue to fuel further research and development efforts into clinical conditions with visual signatures in the blood samples.
Overall, Sight Diagnostics has successfully responded to the call for CBC testing to decentralise healthcare and bring diagnostics closer to patients. Now is the time for CBC-reliant health services and laboratories to implement this pioneering technology and follow suit.
OLO is CE Marked according to the IVD European directive for performing CBC tests in point of care settings. The device is also FDA 510(k) cleared for use in moderately complex settings in the United States.
For full indications for use and safety information, please visit the Quality and Compliance page at www.sightdx.com.
References
Cambridge T. Patient-Centred Care: Decentralised Testing And Diagnostics [internet]. The Biomedical Scientist; 2020 November 5. https://thebiomedicalscientist.net/science/patient-centred-care-decentralised-testing-and-diagnostics (accessed October 2021).
Bachar N et al. An artificial intelligence-assisted diagnostic platform for rapid near-patient haematology. AJH 2021;96(10):1264–74.
Sight Diagnostics. Simplicity of Use: The Sight OLO® Hematology Analyzer — Findings from an observational study and usability questionnaire [internet]. Sightdx.com/evidence: 2021 [cited 2021 September 28]. www.sightdx.com/cms/pdf/CMR0230.pdf (accessed October 2021)
Michel R. Two-drop 'digital cbc' enters U.S. market with FDA clearance. The Dark Report. 2021; XXVIII(1). www.darkintelligencegroup.com/the-dark-report/clinical-laboratory-trends/two-drop-digital-cbc-enters-u-s-market-with-fda-clearance/ (accessed October 2021).