Support for the development of this article was provided by Sight Diagnostics
Complete blood count (CBC) testing has historically occurred in central laboratories due to a lack of accurate point-of-care technology. Sight Diagnostics aims to change this paradigm with Sight OLO® — an AI-driven haematology analyser that produces CBC results with lab-grade precision in a fraction of the time at the point of care.
Since the inception of the Coulter Principle – automated CBC testing that harnesses resistive pulse sensing or flow cytometry to evaluate blood specimens – seven decades ago, reputable haematology systems have relied on large laboratory equipment that requires a special set-up for reagent management and liquid waste disposal. Although many of these robust systems are respected worldwide for their accuracy and speed, they have not suited point of care (POC) settings since they require high overheads and skilled lab technicians for daily quality control, calibration and maintenance.
For large clinical laboratories running countless CBC tests per day, these complex and expensive haematology systems – regardlessof a delay in reporting results due to the transportation of specimens to central laboratories – are deemed cost-effective and efficient, but for small laboratories with small to medium test volumes or point of care settings with time-sensitive cases, this can be limiting or prohibitive. Hence there is an opportunity within the blood diagnostics industry to address these system inefficiencies and develop a system that enables faster, non-compromising, on-site CBC testing closer to patients without transporting specimens to one central laboratory.1
Challenging the Coulter Principle for POC settings
Over the years, there have been attempts to miniaturise legacy lab analysers, but due to the simplification of an often highly complex system, this miniaturisation has often resulted in "reduced numbers of parameters" (e.g., three-part instead of five-part differential), narrowed reportable ranges, reduced abnormal cell flagging capabilities and, in some cases, a reduction in accuracy (as indicated by the small number of FDA clearances). These CBC analysers have also inherited many of the product attributes of their larger relatives, including the requirements for liquid reagent replacement, washout and calibration procedures, and frequent quality-control processes," which in the point of care context can be very restrictive.2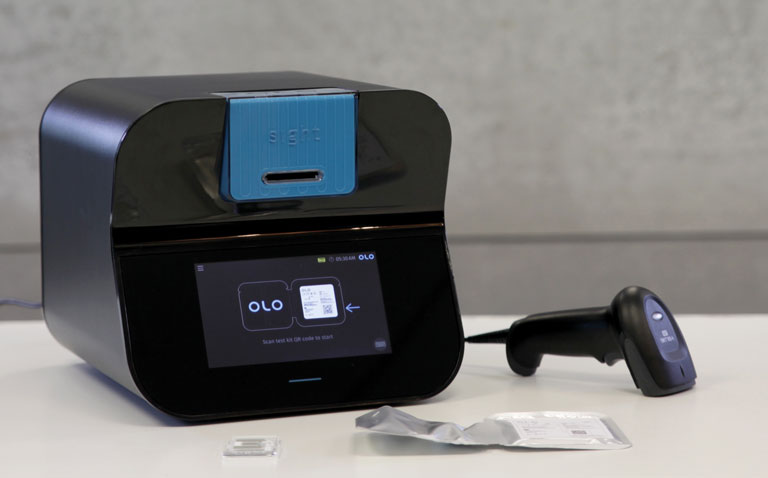 Sight OLO represents a new breed of blood diagnostic technology
Developed from a decade of research, Sight OLO – an AI-driven haematology analyser – implements innovations in physics, chemistry, biology, optics, sample preparation and computer science to provide actionable five-part differential CBC results at the POC
in minutes.
The self-contained quantitative multi-parameter analyser and its disposable cartridge deliver fast and accurate CBC results by digitising blood samples. According to Yossi Pollak, the co-founder and CEO of Sight Diagnostics, OLO takes two drops of blood and automatically creates a monolayer of cells within the self-contained cartridge. Once the specimen cartridge is placed inside the analyser, the device captures over 1000 images within minutes. Then – in real-time – the device uses artificial intelligence to classify, enumerate and identify anomalies in the blood samples to produce the final CBC results.1
Building on OLO's excellent performance, Sight constantly evolves OLO's AI-powered CBC models as well as exploring ways to expand on the application of OLO's underlying technology. For example, machine vision-based technology enables the digitalisation of blood samples into image data. This image data continues to fuel further research and development efforts into clinical conditions with visual signatures in the blood samples.
Lab-grade accuracy for all CBC parameters at the POC
During a Sight study published in July 2021, the accuracy of OLO was compared with the Sysmex XN-1000 System. Samples – covering a broad clinical range for each tested parameter from 355 males (52%) and 324 females (48%) aged 3 months to 94 years – were analysed. The regression analysis results showed a consonance in correlation coefficient and slope, bias and intercept between OLO and Sysmex XN (Figure 3). Therefore, the study concluded that OLO performs with high accuracy for all CBC parameters and is clinically proven to be substantially equivalent to the gold standard – the Sysmex XN-1000.2
Uncompromising precision at low ranges
In a Sight report summarising the accumulated results from 17 clinical method comparison studies focusing on low counts for clinically significant CBC parameters, OLO also showed an excellent performance in enumerating low ranges (Table 1). The studies compared the performance and accuracy of OLO to comparative haematology analysers (e.g., Sysmex XN and Beckman Coulter DxH models) at various institutes and clinical settings – including oncology departments, an epidemic clinic and central labs of both general and paediatric hospitals – in different countries. Overall, the high agreement between OLO and the comparative analysers and the versatility of technologies, locations, operators, and clinical settings confirmed the robustness and accuracy of OLO across different variables.
Sight OLO empowers clinicians to provide high-quality patient care
Since OLO leverages AI to produce novel digital pathology, the analyser can produce CBC results within a few minutes at the POC (via a touchscreen interface, printout, email, or LIS/middleware),
so there is no need to transport specimens to one central laboratory. By delivering fast yet accurate results – whenever and wherever – OLO allows healthcare providers to efficiently and effectively run their operations without needing to defer to central labs. As a result, this pioneering technology has the potential to speed up diagnosis and ultimately elevate the overall quality of treatment and patient outcomes.
OLO is CE Marked according to the IVD European directive for performing CBC tests in point of care settings. The device is also FDA 510(k) cleared for use in moderately complex settings in the United States. For full indication for use and safety information, please visit the Quality and Compliance page at www.sightdx.com.
References
Michel R. Two-drop 'digital cbc' enters U.S. market with FDA clearance. The Dark Report. 2021; XXVIII(1). www.darkintelligencegroup.com/the-dark-report/clinical-laboratory-trends/two-drop-digital-cbc-enters-u-s-market-with-fda-clearance/
Bachar N et al. An artificial intelligence-assisted diagnostic platform for rapid near-patient haematology. AJH 2021;96(10):1264–74.