Dr Joaquín Casariego discusses Janssen's solid tumour portfolio and pipeline, highlighting their commitment to improving outcomes in the solid tumour space.
Having worked in the pharmaceutical industry for over 20 years, I joined Janssen in 2016 as EMEA Medical Director Oncology and began my current role as EMEA Therapeutic Area Lead Oncology in 2019.
At Janssen we have been active in oncology for over 30 years, significantly contributing to improved patient outcomes in the solid tumour space. Our driving passion is to bring innovative medicines to patients at the earliest stages of their disease where there is maximum potential for cure and, when not possible, have the highest impact on patient outcomes.
Within the last seven years, we have recognised numerous milestones across our solid tumour portfolio in Europe – from launching two treatments in prostate cancer, abiraterone acetate (Zytiga®)1 and apalutamide (Erleada®),2 to seeing abiraterone acetate included in the World Health Organization (WHO) Essential Medicines List for the treatment of metastatic castration-resistant prostate cancer (mCRPC).3
In addition to our approved products in prostate cancer, we have a strong late-stage pipeline in solid tumours. Our focus is on discovering best-in-class, innovative medicines for cancers where patient and their families' needs are greatest. We do this by pursuing the cancer types and sub-types that we know best, and where we can achieve the highest impact – both in transforming patients' lives today and in moving closer to a cure tomorrow.
This is demonstrated by the ongoing Phase II GALAHAD study, exploring niraparib, an orally-administered poly-ADP-ribose-polymerase (PARP) inhibitor for third-line treatment of adult men with mCRPC with bi-allelic DNA-repair defects (DRD).7 There is currently a high unmet need in this particular patient group and we were delighted to share positive preliminary results from the GALAHAD study earlier this year.7 In addition, the Phase III MAGNITUDE trial is exploring the efficacy and safety of the novel combination of niraparib plus abiraterone acetate as first line treatment of mCRPC patients with and without DRD.10
In recent years, drug development in early disease stages of cancer has been limited by a lack of clinically relevant endpoints. As our research explores earlier stages there is a greater need to find endpoints to replace long term endpoints such as overall survival. To address this, Janssen created a pioneering development strategy to address how our medicines are evaluated and approved. Although overall survival is still considered the gold standard of interventions in trials, together with clinical experts in the field, we are developing clinical trial programmes that maximise the impact of novel surrogate and intermediate endpoints with a view to redefine patient outcomes at all disease stages.11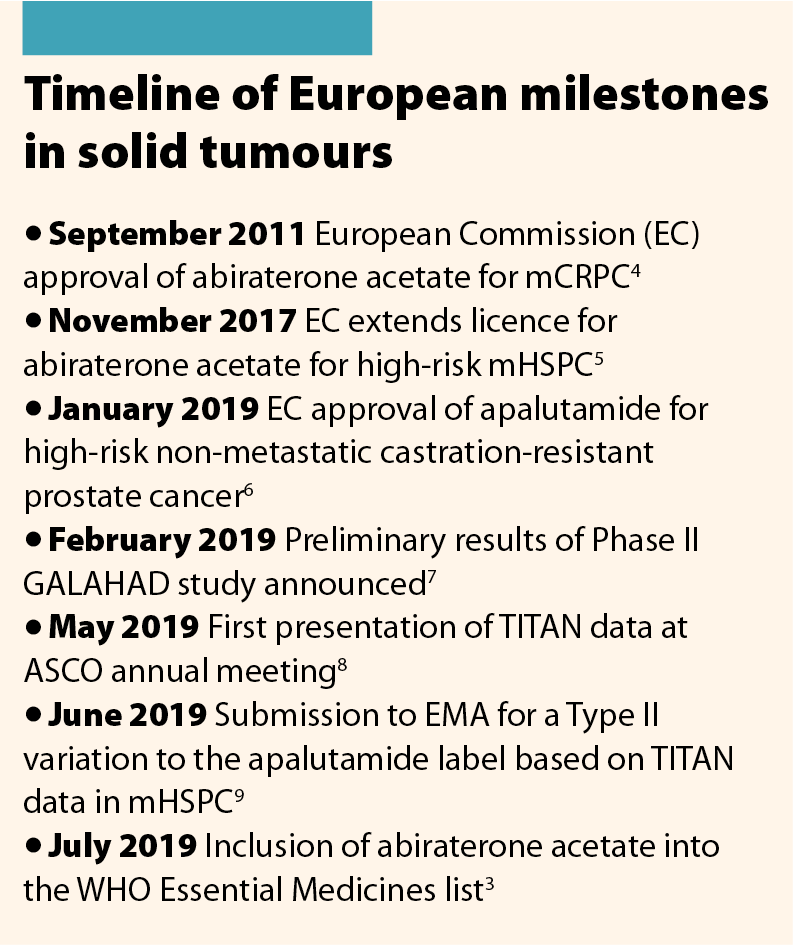 Our use of novel efficacy endpoints has supported several submissions to regulatory bodies including the submission and approval of apalutamide for patients with high-risk non-mCRPC (nmCRPC).1 This approval was based on the Phase III SPARTAN study, which showed statistically significant improvement versus placebo for the primary endpoint of metastasis-free survival.12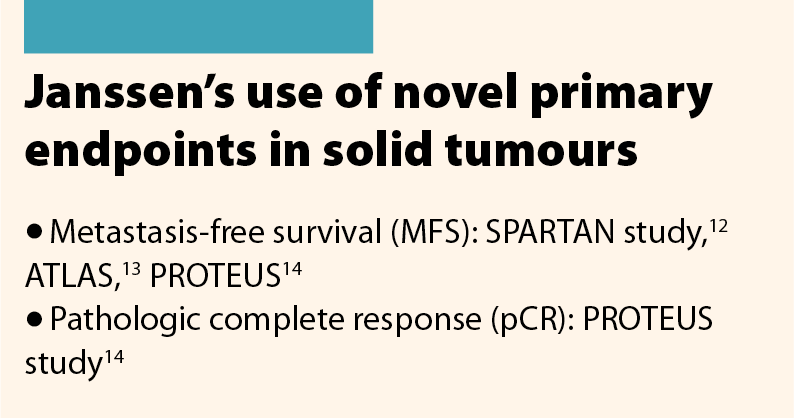 Not only is it important to develop innovative medicines for the treatment of cancer, but it is vital that patients have the opportunity to get the treatment most likely to benefit them. As such, a growing number of our pipeline products are centred in a precision medicine approach, are biomarker-based and are identified by a companion diagnostic. As part of our commitment to bring the right treatment, to the right patient, at the right time, for the right outcome, we are developing a biomarker test to identify patients with urothelial cancer and FGFR alterations. This will identify those most likely to benefit from targeted therapy with erdafitinib, a first and best in class FGFR inhibitor which is available in the US.15,16 We believe that advanced diagnostics can deliver actionable information and cost-effective solutions to guide targeted, individualised use of our therapies in the clinic.
A similar approach is being followed for the treatment of lung cancer with EGFR alterations, through assets currently in the pipeline. At Janssen we are partnering with numerous experts to bring to life our commitment to precision medicines. These partnerships are exploring computational tools, artificial intelligence and big data that will result in state-of-the-art, real-world evidence to enable superior decision-making for diagnostics and disease management.
Using these approaches, we need to characterise the mechanisms of the tumour cells that lead to drug resistance and develop tests to detect abnormalities in the androgen receptor. These methods will enable us to diagnose and eventually stop cancer earlier in the disease – this process is known as cancer interception. Janssen researchers are currently exploring cancer interception in both multiple myeloma and prostate cancer.
It certainly is a thrilling time in oncology and the progress is being driven by passionate individuals that I am delighted to call my peers and colleagues. I am personally hugely excited to be playing a part in the future of cancer medicines.
More information about the Janssen Oncology Solid Tumour portfolio can be found on the website www.janssen.com/emea.
References
1 European Medicines Agency. ZYTIGA Summary of Product Characteristics. www.ema.europa.eu/en/documents/product-information/zytiga-epar-product-i… (accessed August 2019).
2 European Medicines Agency. ERLEADA Summary of Product Characteristics. www.ema.europa.eu/en/documents/product-information/erleada-epar-product-… (accessed August 2019).
3 World Health Organization. WHO Model List of Essential Medicines. https://apps.who.int/iris/bitstream/handle/10665/325771/WHO-MVP-EMP-IAU-… (accessed August 2019).
4 European Medicines Agency. Zytiga. www.ema.europa.eu/en/documents/overview/zytiga-epar-summary-public_en.pdf (accessed August 2019).
5 Janssen. 2017. European Commission extends license for Janssen's ZYTIGA® plus prednisone/prednisolone to include earlier stage prostate cancer patients. www.businesswire.com/news/home/20171120005575/en/European-Commission-Ext… (accessed August 2019).
6 Janssen. 2019. Janssen announces European Commission approval of ERLEADA® (apalutamide) for non-metastatic castration-resistant prostate cancer patients who are at high risk of developing metastatic disease. www.businesswire.com/news/home/20190116005454/en/Janssen-announces-Europ… (accessed August 2019).
7 Smith M et al. Phase 2 study of niraparib in patients with metastatic castration-resistant prostate cancer (mCRPC) and biallelic DNA-repair gene defects (DRD): preliminary results of GALAHAD. Abstract #202. Presented at ASCO GU 2019.
8 Chi K et al. First results from TITAN: A Phase III double-blind, randomized study of apalutamide (APA) versus placebo (PBO) in patients (pts) with metastatic castration-sensitive prostate cancer (mCSPC) receiving androgen deprivation therapy (ADT). J Clin Oncol 2019;(suppl 37):abstr 5006.
9 Janssen. 2019. Janssen seeks to expand use of ERLEADA® (apalutamide) in the treatment of patients with metastatic hormone-sensitive prostate cancer. www.businesswire.com/news/home/20190604005600/en/Janssen-Seeks-Expand-ER… (accessed August 2019).
10 ClinicalTrials.gov. Identifier: NCT03748641. A Phase 3 Randomized, Placebo-controlled, Double-blind Study of Niraparib in Combination With Abiraterone Acetate and Prednisone Versus Abiraterone Acetate and Prednisone in Subjects With Metastatic Prostate Cancer.
11 Bennett C. A Powerful Force: Novel endpoints speed up drug development. OBR Oncology 2018;11:4. http://obroncology.com/article/a-powerful-force-novel-endpoints-speed-up… (accessed August 2019).
12 Smith RM et al. Apalutamide treatment and metastasis-free survival in prostate cancer. N Engl J Med 2018;378:1408–18.
13 Sandler, et al. ATLAS: A randomized, double-blind, placebo-controlled, phase 3 trial of apalutamide (ARN-509) in patients with high-risk localized or locally advanced prostate cancer receiving primary radiation therapy. J Clin Oncol 201;7(suppl 15):abstr TPS5087.
14 Taplin M-E et al. PROTEUS: A randomized, double-blind, placebo (PBO)-controlled, phase 3 trial of apalutamide (APA) plus androgen deprivation therapy (ADT) versus PBS plus ADT prior to radical prostatectomy (RP) in patients with localized high-risk or locally advanced prostate cancer. J Clin Oncol 2019;suppl 37:abstr TPS5100.
15 Erdafitinib [package insert]. Janssen Pharmaceuticals, Inc; 2019 (accessed August 2019).
16 Loriot Y et al. Erdafitinib in locally advanced or metastatic urothelial carcinoma. N Engl J Med 2019;381:338–48.
Date of prep August 2019
Job code CP-105578