Best-in-class diagnostics that make a measurable difference to the management of patients with rheumatic diseases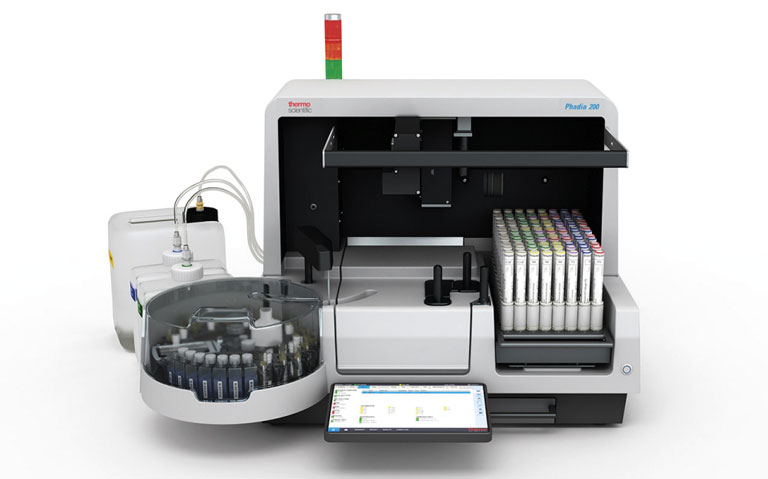 The challenge of the rheumatic disease patient
The often-vague and overlapping symptoms of early rheumatic disease can make differentiation challenging,1 leading to an average time to diagnosis of 6-42 months, disease dependent.2-8 Delays in diagnosis are associated with poorer patient outcomes,9-17 so clinically relevant, reliable testing is vital from the beginning. Since rheumatic disease patients carry an increased risk of comorbidities, including other autoimmune conditions, cardiovascular disease and malignancy,18-20 early intervention is key.21-25
Early, accurate diagnosis can help reduce the burden on the healthcare system
When patients suffer from non-specific symptoms such as fatigue and arthralgia, tests for anti-nuclear antibodies (ANA) by indirect immunofluorescence or solid phase ANA screens, anti-cyclic citrullinated peptide (anti-CCP) antibodies, and rheumatoid factor (RF) are commonly requested.26
However, testing is fallible; depending on the marker, 5-50% of these tests may provide false positive results. This can lead to further testing, avoidable referrals, misdiagnosis, inappropriate management, and even lawsuits.27-35 Given that up to 70% of medical decisions are based on results of testing for diagnostic markers,36-39 and that approximately 15% of medical cases in developed countries are misdiagnosed, leading to substantial costs,40-44 it is vital that test results are reliable.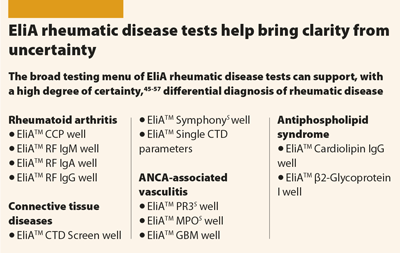 When you get an EliATM test result, you can trust it to help you make the right clinical decision – leading to better patient outcomes
EliATM rheumatic disease tests* have been shown consistently to provide the most clinically accurate results, when compared with alternative tests,45-57 meaning:
The high sensitivity, even for difficult-to-detect autoantibodies such as Ro,58 ensures that you detect a comparable number of patients
The superior specificity of EliA rheumatic disease tests* minimises the number of false positives – potentially reducing avoidable investigations and treatment
You can correctly diagnose patients sooner, ensuring they receive the best management during the window of opportunity, and improving outcomes
What are the benefits of using EliATM tests?
Outstanding quality
EliA best-in-class tests45-57
Results when you need them – PhadiaTM Laboratory Systems have outstanding reliability49
Proven reproducibility – demonstrated across >4,800 laboratory systems installed worldwide49
Cost savings
EliA tests support an early, accurate diagnosis, which can help to minimise:
Follow-up costs associated with misdiagnoses
Avoidable treatments
Avoidable emergency care
Risk of malpractice lawsuits

References
The General Practice Guide to Autoimmune Diseases. P.L. SYaM, editor: Pabst Science Publishers, Lengerich Berlin; 2012
Irvine S, et al. Ann Rheum Dis 1999;58:510–13.
Gray M, Nuki J. Rheumatology (Oxford) 2001;40(Suppl 1):60. 23
Jeyaratnam R, et al. Rheumatology (Oxford) 2001;40(Suppl 1):29.
Potter T, et al. Rheumatology (Oxford) 2002;41:953–5; author reply 5.
Raza K, et al. Ann Rheum Dis 2011;70:1822–5
Rodriguez-Polanco E, et al. Rheumatol Int 2011;31:657–65.
Nanji JA, et al. J Rheumatol 2012;39:707–11.
Sørensen J, Lund Hetland M. Ann Rheum Dis. 2015; 74(3): e12.
Raciborski F, et al. Rheumatologia. 2017; 55(4): 169–176.
Cavagna L, et al. Medicine (Baltimore). 2016 95(39): e4827.
Sjögren's Syndrome Foundation, SSF Launches 5-Year Breakthrough Goal. 2012. Available at: http://www.sjogrens.org/home/about-the-foundation/breakthrough-goal-[Last accessed April 2019].
Solans-Laqué R, et al. Semin Arthritis Rheum 2011; 41: 415-423.
Gergianaki I, Bertsias G, Frontiers Medicine 2018; 5:161
Lupus UK, People with lupus are waiting more than 6 years to get a diagnosis in the UK, 2018. Available at: //www.lupusuk.org.uk/six-year-diagnosis-delay/. [Last accessed July 2019.]
Oglesby A, et al, Appl Health Econ Health Policy. 2014;12:179–90. doi: 10.1007/s40258-014-0085-x.
Malik A, et al. Frontiers in Neurology 2016;7:64.
Rua-Figueroa Inigo; Arthritis Care & research 2017;69(1):38-45.
Fallahi P, et al. Front. Endocrinol. 8:266. doi: 10.3389/fendo.2017.00266.14.
Caio G, et al. Gastroenterol Hepatol Bed Bench 2018;11(3):244-249.
Barhamain AS, et al. Open Access Rheumatol. 2017;9:139-50.
Nell VPK, et al Ann Rheum Dis 2005;64 1731-1736
Romao VC, et al. RMD Open. 2018;4(Suppl 1):e000789.
Kuhn A, et al. Dtsch Arztebl Int. 2015;112(25):423-32.
Saketkoo et al. Am J Med Sci. 2014; 347(1):doi:10.1097/MAJ.0b013e3182a55d24.
Kavanaugh A, et al. Arch Pathol Lab Med 2000;124:71–8.
Saber AS, et al. BMJ Qual Saf 2013;22:672-680.
Suarez-Almazor ME. J. Rheumatology 1998;25(10):1980-5.
Gamez-Nava JI, et al. British Journal of Rheumatology 1998;37:1215-1219.
Gran JT, et al. Clinical Rheumatology 2000;19:(6) 450-4.
Gonzáles-Buitrago M. Clin Chim Acta 2006;361 (1-2):50-7.
Abeles AM, et al. The American Journal of Medicine 2013; 126: 342-348.
Fitch-Rogalsky C, et al. PLOS 2014;9 (4)1-8.
Rasmussen A, et al. Rheumatology 2016.
American College of Rheumatology, Position Statement on Methodology of Testing for Antinuclear Antibodies. Available at: https://www.rheumatology.org/Portals/0/Files/Methodology%20of%20Testing%… [Last accessed July 2019.]
Badrick T, Clin Biochem Rev 2013;34: 43-6.
Kruse-Jarres JD, Lab. Med 1994;18:21
White paper diagnet, EDMA, 2010.
Ulrich-Peter R, et al. PLoS One 2016; 11(3): e0149856.
Leape L, et al. New England Journal of Medicine 1991; 324: 377-384.
Singh H, et al. BMJ Qual Saf 2014;23:727–731.
Newman-Toker D, et al. JAMA 2003;01:10
The Telegraph, One in six NHS patients 'misdiagnosed'. 2009. Available at: http://www.telegraph.co.uk/news/health/news/6216559/One-in-six-NHS-patie… [Last accessed July 2019.]
Washington Post, Misdiagnosis is more common than drug errors or wrongsitesurgery. 2013. Available at: https://www.washingtonpost.com/national/health-science/misdiagnosis-is-m… 5d71a374-9af4-11e2-a941-a19bce7af755_story.html?utm_term=.31a433743084. [Last accessed July 2019.]
Mathsson Alm L, et al. Clin Exp Rheumatol 2017; Nov 28 [Epub ahead of print].
Nishimura K, et al. Ann Intern Med 2007; 146:797-808.
Gonzalez C, et al. Clinica Chimica Acta 2005; 359: 109-114.editor: Pabst Science Publishers, Lengerich Berlin; 2012.
Van der Pol P, et al. Clinica Chimica Acta 2018; 4 76: 154-159.
ThermoFisher Scientific Internal Study
Mascialino B, et al. Ann Rheum Dis 2018;77:1173.
Korsholm T, et al. Scand J Rheumatol 2014;43:89.
Robier C, et al. Clinical Chemistry and Laboratory Medicine 2016;54(8):1365-1370.
Alpini C, et al. EliA Journal 2010 (Special Edition 1):3.
Pereira LM, et al. EliA Journal 2010 (Special Edition 1):6-7.
Otten HG, et al. Clin Exp Rheumatol 2017.
Jeong S, et al PLoS ONE 2017;12(3).
Willems P, et al. Clin Chem Lab Med 2018; DOI: https://doi.org/10.1515/cclm-2017-0905 [epub ahead of print].
Adebajo AO, et al. Collected reports on the rheumatic diseases. 2005. Available at: https://www.arthritisresearchuk.org/~/media/Files/Education/Hands-On/IP0… [Last accessed July 2019.]
*EliA rheumatic disease tests include: EliA CTD Screen, EliA SymphonyS, EliA CTD Single Parameters, EliA CCP, EliA RF isotypes, EliA Cardiolipin, EliA β2-Glycoprotein I, EliA PR3S, EliA MPOS , EliA GBM