People in Ireland lead longer and healthier lives than most other Europeans, although behavioural risk factors, including smoking and obesity, remain important public health concerns. Quality of healthcare is generally good, but access to services is constrained by costs and waiting times.
The Covid-19 pandemic exposed health system weaknesses – in particular a shortage of health workers in the public sector and low intensive care unit capacity in public hospitals. It also revealed some of Ireland's strengths in responding to crises, including the ability to develop technological solutions and to mobilise additional funding rapidly for health reform, health workforce and hospital resources.
Ireland's health status
Life expectancy in Ireland has increased rapidly since 2000, reaching 82.8 years in 2019, 1.5 years higher than the EU average. Circulatory diseases and cancers remain the leading causes of death, accounting for more than 30% of all deaths.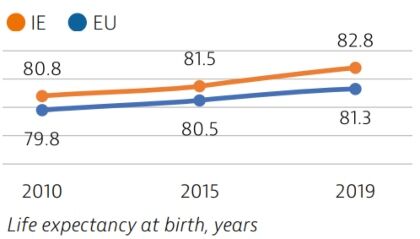 Risk factors
Behavioural risk factors are a major driver of mortality in Ireland. While smoking rates among adults have reduced, obesity among adults is on the rise and is now slightly higher than the EU average. One quarter of adults in Ireland report regular heavy alcohol consumption, which is also above the EU average.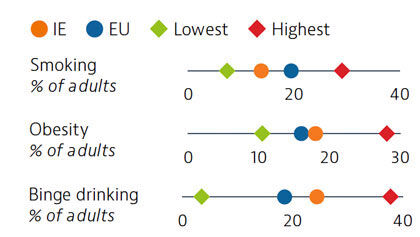 Ireland's health system
Spending on health per capita in Ireland is close to the EU average. Public coverage of spending for inpatient care is more limited than in other EU countries, while it is greater for pharmaceuticals. The majority of the population pays the full cost of general practitioner visits, outpatient prescriptions up to monthly thresholds, outpatient medical supplies and dental care. Spending on prevention was below the EU average in 2019 but saw a substantial increase in response to Covid-19.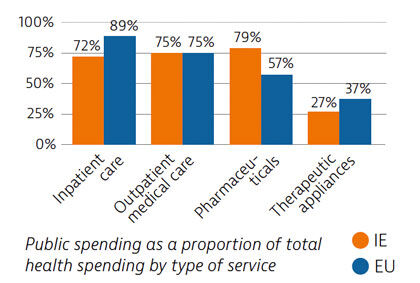 Effectiveness
Mortality from preventable and treatable causes in Ireland is lower than in most EU countries. Still, there is room for further progress to reduce premature deaths through public health interventions and more timely diagnosis and treatment.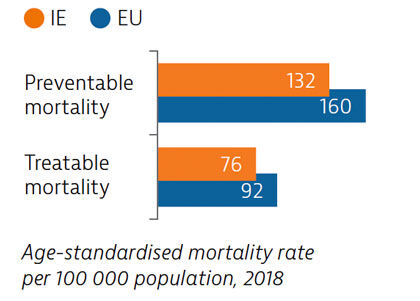 Accessibility
Covid-19 has affected access to care in Ireland: one fifth of the population reported unmet needs for medical care and treatment in 2020. Use of teleconsultations during the first wave of the pandemic aimed to improve access, and uptake was greater than the EU average.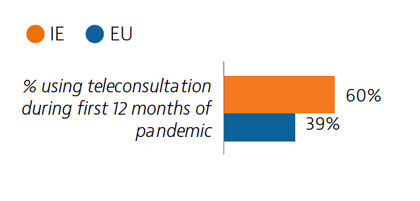 Resilience
Ireland's successful management in the early phases of the Covid-19 pandemic was challenged in late 2020 a severe third wave was experienced. By the end of August 2021, Ireland's vaccination programme achieved above EU average results, with almost 70% of the total population receiving two doses (or equivalent).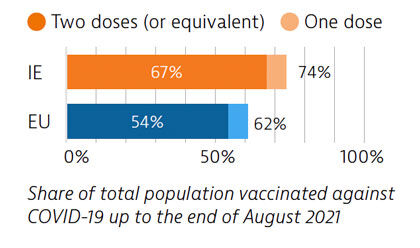 OECD/European Observatory on Health Systems and Policies (2021), Ireland: Country Health Profile 2021, State of Health in the EU, OECD Publishing, Paris/European Observatory on Health Systems and Policies, Brussels.