The Finnish population has seen improvements in life expectancy over the past two decades, and this positive development continued in 2020 despite the Covid-19 pandemic, as the government adopted a hybrid strategy to reduce the spread of the virus and protect high-risk people.
However, an ageing society and high numbers of people with chronic diseases and disabilities will raise the demand on health and long-term care systems in the future.
A recently approved major reform includes greater centralisation of responsibilities and resources at the regional level to improve access to care while controlling costs.
Finland's health status
Over the past decade, life expectancy in Finland has increased at a faster rate than the EU average. Finland and Denmark were the only EU countries where life expectancy increased in 2020, although the gains were modest. Finland reported the lowest rate of Covid-19 cases and deaths among EU countries in 2020.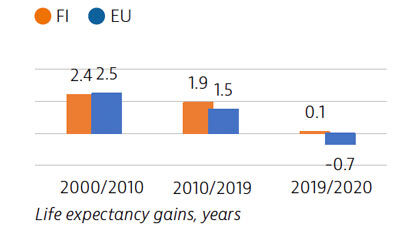 Risk factors
Daily smoking among adults in Finland has halved since 2000. Alcohol consumption has also decreased over the past two decades, although heavy episodic alcohol consumption remains more common in Finland than the EU average. Among young people, smoking and drunkenness rates are near the EU average. While physical inactivity among adolescents is only slightly lower in Finland than in the rest of the EU as whole, over 80% of adolescents are not doing sufficient physical activity every day.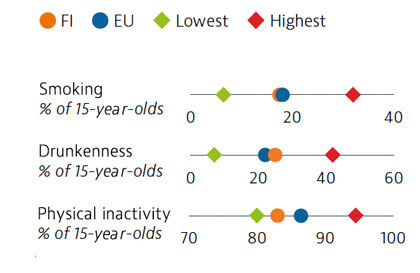 Finland's health system
Health spending per capita in Finland increased at a very slow rate between 2013 and 2019. At €3,150 in 2019, it was over 10% lower than the EU average (€3,520). Health spending accounted for 9.2% of Finland's GDP – almost one percentage point below the EU average of 9.9%. Public funding accounts for 78% of all health spending, which is a slightly lower share than the EU average (80%). In 2020 and 2021, the government provided additional funding of €4bn in response to the Covid-19 pandemic.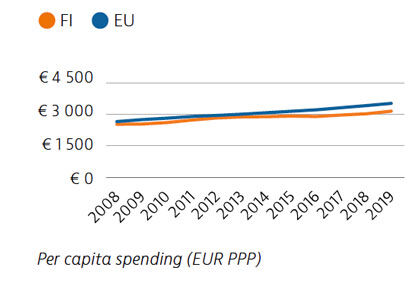 Effectiveness
Mortality from treatable causes in Finland in 2018 was lower than the EU average, signalling that the healthcare system performs well in saving the lives of people with potentially fatal conditions. However, mortality that may be avoided through prevention policies was only close to the EU average.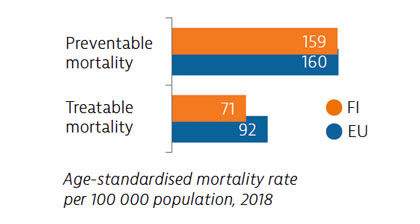 Accessibility
During the first twelve months of the Covid-19 pandemic, 20% of Finns reported unmet needs for medical care, which is close to the EU average. As in many other EU countries, the use of teleconsultations increased quickly during the pandemic to maintain access to care.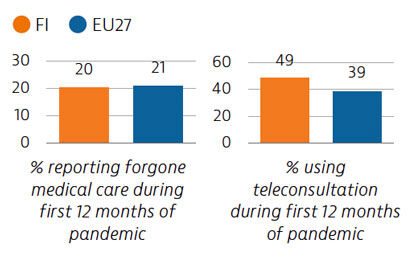 Resilience
Finland followed a hybrid strategy to fight Covid-19, based on implementing targeted restrictions and a strong testing and tracing system. By the end of August 2021, more than 70% of the population had received a first dose, but only 50% had received two doses or the equivalent.
OECD/European Observatory on Health Systems and Policies (2021), Finland: Country Health Profile 2021, State of Health in the EU, OECD Publishing, Paris/European Observatory on Health Systems and Policies, Brussels.