Availability of Cardiovascular Care
Introduction to the ESC Atlas Survey
The European Society of Cardiology (ESC) Atlas undertakes an annual survey to obtain data on cardiovascular procedure rates across ESC member countries, and the variation in human and capital resources that underpin this variation.1 As contemporary treatment for cardiovascular disease (CVD) becomes increasingly technological, it is important to consider the accompanying financial burden and its impact on low- and middle-income countries. The ESC Cardiovascular Realities 2020 clearly depicts the three key elements of the survey: human resources, capital resources, and service delivery; all of which are strongly associated with national economic resource, and often irrespective of healthcare need.1
Human resources1
An 8-fold variation in cardiological person-power across the ESC member countries is indicative of both under- and overprovision of human resources.
This ranges from <45 cardiologists per million people in the UK, Ireland, and Finland to >250 per million people in Italy.
Women are underrepresented in the cardiology field, comprising only 28% of all cardiologists working across ESC member countries.
Middle-income countries have a 2.5- and 3-fold reduction in availability of interventional cardiologists and electrophysiologists compared to high-income countries.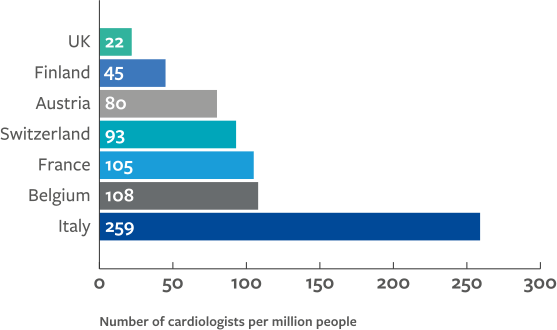 Capital resources1
Provision of cardiac catheterisation was lower for hospitals in middle-income countries, ranging from <1 to >4.5 equipped hospital per million inhabitants.
Inequalities in electrophysiological capital resources were evident, with 3 times fewer hospitals per million inhabitants performing electrophysiology procedures in low- compared to high-income countries.
Low-income countries also had fewer hospitals offering round-the-clock facilities for primary percutaneous coronary intervention (PCI).
Service delivery1
The disparities in human and capital resources between low-, middle-, and high-income countries underpins the same inequalities in delivery of cardiovascular treatment. The ESC Atlas survey highlights considerably less availability of services in middle- compared to high-income countries, including for invasive coronary angiography (ICA), PCI, structural heart intervention, ablation and rhythm management devices, cardiac surgery, and heart transplantation and left ventricular access devices (LVAD).
Key findings:
Western and central high-income European countries generally performed the greatest number of ICAs and coronary artery bypass grafts (CABG) per million people compared to the other ESC member countries.
This was highest in Germany with 9,360 ICAs per million people, followed by Switzerland and Austria at 6,479 and 6,347 ICAs, respectively. While the Netherlands performed the highest number of CABGs.
Germany, Switzerland, and France performed the highest number of TAVIs (>=120 per million people), closely followed by Austria and the Netherlands; middle-income and more eastern European countries had significantly lower numbers, at <30 TAVIs per million people.
Overall, there were 50% fewer diagnostic catheter procedures reported in middle- compared to high-income countries.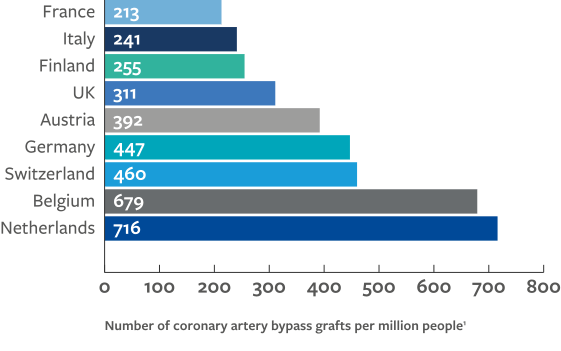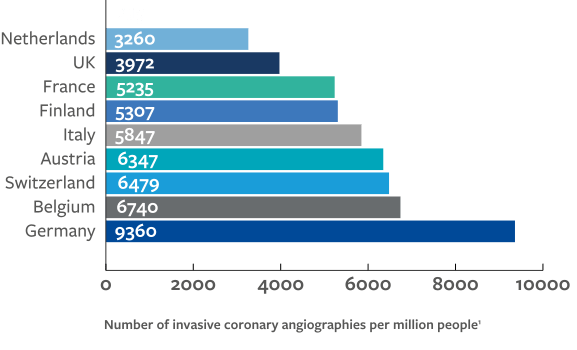 These data indicate a strong association between national economic resource and availability of provisions and treatment since high-income countries generally perform the greatest number of procedures. However, outliers from this trend may highlight other factors that are at play such as:
Both the UK and the Netherlands performed numbers of ICAs that were comparable with many middle-income countries (3,972 and 3,260 ICAs per million people, respectively); this was also the case for Italy and France in number of CABGs.

On number of TAVI procedures, the UK and Belgium were considerably lower than other western European countries at 30 to 60 TAVIs, which is comparable with a number of middle-income countries.

Despite middle-income countries reporting a mean of 50% fewer diagnostic catheter procedures, many performed more than many high-income countries.
To what extent does national economic resource impact cardiovascular access?
The association between gross national income (GNI) per capita and rates of diagnostic cardiac catheterisations makes apparent the constraints that expensive novel technologies are putting on healthcare systems, particularly for low- and middle-income countries.2 The prevalence of ischaemic heart disease is seen to be inversely associated with GNI per capita, suggesting procedural rates in high-income countries are paradoxically high and are more likely to be associated with national prosperity than healthcare demand.2
While middle-income countries are generally under resourced, other factors must be responsible for the observed outliers. Inter-country variation in medical device costs may also influence availability of care, for instance coronary stents and pacemakers are more expensive in Italy and France than in Germany; and healthcare expenditure is higher in the US than the UK, yet differences in allocation of these costs may result in different, if not better, outcomes in the UK.3,4
Aside from economic concerns, there is also a considerable variation in patient populations across Europe. In patients with heart failure with preserved ejection fraction (HFpEF), those from Western Europe (e.g., Austria, Belgium, Finland, France, UK, Spain, Switzerland) were oldest and had highest prevalence of atrial fibrillation, while those in Central and Eastern Europe (e.g., Bulgaria, Croatia, Greece, Hungary, Poland, Russia, Turkey) were youngest and had the highest prevalence of coronary artery disease.5 As a result, Western Europe reported higher incidences of heart failure hospitalisation and CV-related death, which may explain the greater service delivery in these countries.1,5
For middle-income countries, unnecessary provision not only has negative outcomes where the patient selection is inappropriate but is also likely to deplete available resources.1 In the same way, risk factor modification may be a cost-effective strategy to reduce the cardiovascular burden.1 However, given the cardiovascular risk factors that are associated with socioeconomic gradients both within and between countries, such as smoking, it is unlikely that risk factor modification alone is sufficient to increase availability of cardiovascular care in middle-income countries.1
References
European Society of Cardiology. ESC Cardiovascular Realities 2020. 2020. Accessed: December 2021.
Barbato E, Noc M, Baumbach A, et al. Mapping interventional cardiology in Europe: the European Association of Percutaneous Cardiovascular Interventions (EAPCI) Atlas Project. European Heart Journal. 2020;41(27):2579-2588.
Wenzl M, Mossialos E. Prices For Cardiac Implant Devices May Be Up To Six Times Higher In The US Than In Some European Countries. Health Affairs (Millwood). 2018;37(10):1570-1577.
Leyva F, Qiu T, Evison F, et al. Clinical outcomes and costs of cardiac revascularisation in England and New York state. Open Heart. 2018;5(1):e000704.
Tromp J, Claggett BL, Liu Jiankang, et al. Global Differences in Heart Failure with Preserved Ejection Fraction. Circulation. Heart Failure. 2021;14(4):e007901
This content is sponsored by Edwards Lifesciences.