This website is intended for healthcare professionals only.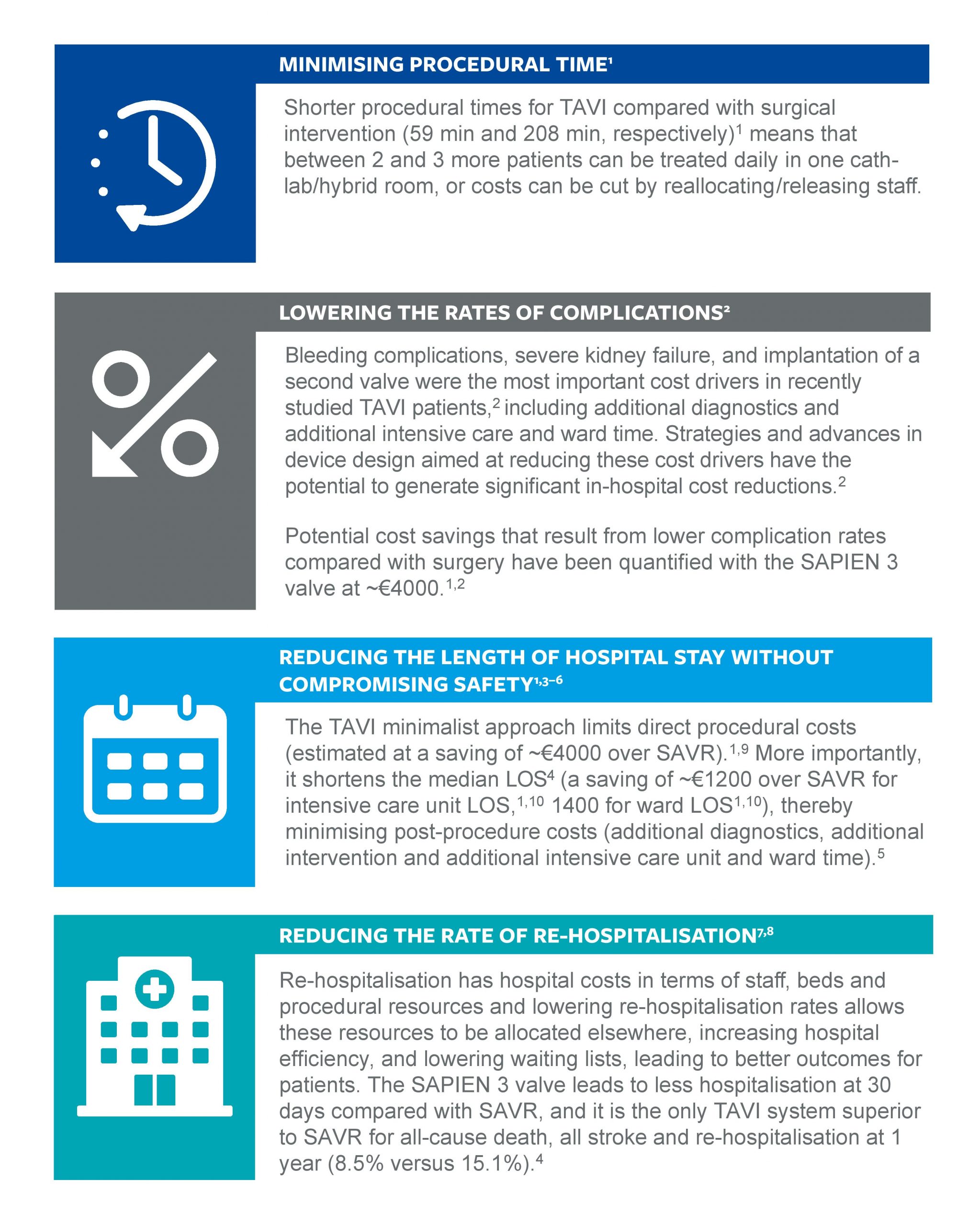 Acute care institutions around the world are being reconfigured in response to the COVID-19 pandemic. As we enter the next phase, the priority will be to address the backlog of patients whose care has been placed on hold. It has never been more critical that hospitals display maximum efficiency in delivering best clinical care to their patients – from shortening waiting lists and length of stay (LOS) to lowering re-hospitalisation rates.
A key focus will be on patients with aortic stenosis. The transition from surgical aortic valve replacement (SAVR) to transcatheter aortic valve replacement (TAVI) presents clear opportunities to improve efficiencies in the hospital by: (1) minimising procedural time;1 (2) lowering the rates of complications;2 (3) reducing the length of hospital stay without compromising safety; (1, 3–6) (4) reducing the rate of re-hospitalisation;4,7,8 (5) shortening waiting lists and (6) lessening demand on rehabilitation beds.4
Of these drivers of cost savings, the most significant are shown.
The improved efficiencies outlined above as a benefit of the TAVI valve will go a long way in helping to address the backlog of patients. As all hospitals have been restructured to tackle the pandemic, placing a large amount of patient care on hold, addressing this backlog will become of utmost importance.
Mack MJ, et al. Transcatheter aortic-valve replacement with a balloon-expandable valve in low-risk patients [supplemental appendix]. N Engl J Med 2019;380:1695–705.
Gutman A, et al. Analysis of the Additional Costs of Clinical Complications in Patients Undergoing Transcatheter Aortic Valve Replacement in the German Health Care System. Int J Cardiol 2015;179:231–23.
Sanchez C, et al. Comparison of Year-Over-Year U.S. Hospital Costs Between Transcatheter Aortic Valve Replacement (TAVR) and Surgical Aortic Valve Replacement (SAVR). J Am Coll Cardiol 2019;74(Supplement B728):13
Mack MJ, et al. Transcatheter aortic-valve replacement with a balloon-expandable valve in low-risk patients. N Engl J Med 2019;380:1695–1705.
Wayangankar SA, et al. Length of Stay After Transfemoral Transcatheter Aortic Valve Replacement: An Analysis of the Society of Thoracic Surgeons/American College of Cardiology Transcatheter Valve Therapy Registry. JACC Cardiovasc Interv 2019;12:422–30
Barbanti M, et al. Optimizing patient discharge management after Transfemoral Transcatheter Aortic Valve Implantation: The Multicentre European FAST-TAVI trial. Euro Intervention 2019;15:147–54.
Kolte D, et al. Thirty-Day Readmissions After Transcatheter Aortic Valve Replacement in the United States: Insights From the Nationwide Readmissions Database. Circ Cardiovasc Interv 2017;10:e004472.
Tashtish N, et al. Length of Stay and Hospital Charges for Heart Failure Admissions in the United States: Analysis of the National Inpatient Sample. J Cardiac Failure 2017;23(Supplement S59):8.
Moore M, et al. The variable cost of an operating room minute for valvular procedures. Value in Health 2014;17(3):A1–A295
(– Brought to 2019 value in Germany (+8.64%), conversion rate of 11/10/2019 (1USD=€0.91).
Povero M and Pradelli M. Comparison between traditional and goal directed perfusion in cardiopulmonary by-pass. A differential cost analysis in US. Farmeconomia. Health Econ Ther pathways 2015;16:77–86. Adaptation of a differential cost analysis, 2015 – German data adjusted to 2019 value
This content is sponsored by Edwards Lifesciences