Study has explored whether the degree of inflammation modifies the effect of intravenous corticosteroid on clinical outcomes in patients with acute heart failure in the emergency department
Heart failure (HF) is typically described as either left ventricular systolic or diastolic dysfunction and multiple studies have correlated the elevation of pro-inflammatory cytokines with a worse prognosis. In fact, increased levels of plasma interleukin-6 (IL-6) concentrations are frequently observed in patients with acute heart failure and which have prognostic value.
Additionally, other work suggests that a modestly elevated CRP level upon discharge had unique long-term prognostic implications among hospitalised patients with acute heart failure.
However, whether the use of anti-inflammatory agents is of value in those with heart failure is uncertain, although some evidence suggests that, despite suppression of the inflammatory markers CRP and IL-6, anti-inflammatory agents, such as infliximab, do not improve the clinical condition of patients with moderate-to-severe chronic heart failure.
Using data from the Epidemiology of Acute Heart Failure in the Emergency Departments (EAHFE) registry, researchers examined the outcomes for a subset of patients whose blood results were suggestive of inflammation, i.e., N-terminal pro-B-type natriuretic peptide (NT-proBNP) levels > 300pg/ml and CRP levels > 5mg/ml.
The team then divided patients into two groups based on whether they received systemic corticosteroids in the ED or not. For the analysis, the primary outcome was 30-day all-cause mortality with secondary outcomes including in-hospital, all-cause mortality and a 30-day post-discharge composite of ED revisits, hospitalisation or death. They also undertook a subgroup analysis based on CRP levels.
Corticosteroid use and HF outcomes
↓
This is a sponsored advert: Please read the information below
↓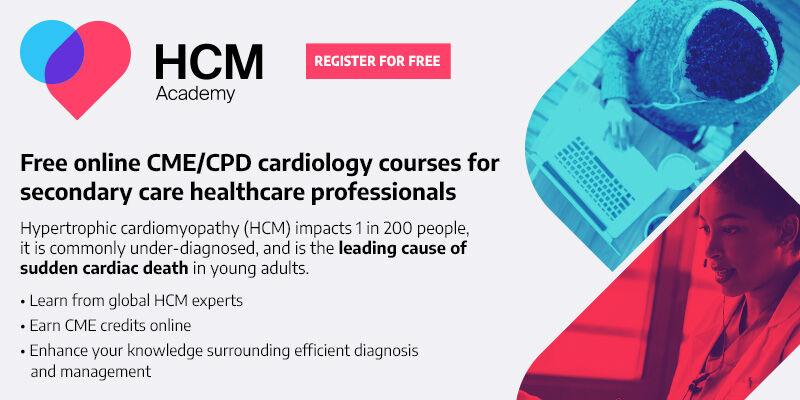 Access our CME/CPD courses anytime, anywhere, and study at your own pace
↑
This is a sponsored advert: Please read the information above
↑
A total of 1109 patients with an overall mean age of 81.2 years (45% male) were included in the study, of whom, 121 (10.9%) received at least one IV bolus of corticosteroids during their ED stay.
In patients with CRP levels > 5mg/l and NT-proBNP levels > 300pg/ml, the cumulative risk of 30-day all-cause mortality was not significantly different to those who did not receive corticosteroids (HR = 1.26, 95% CI 0.75 – 2.09, p = 0.38).
However, as levels of CRP increased and after adjustment for the EAHFE score (which predicts short-term prognosis), the hazard ratios reduced, although remained non-significant. For example, in patients with highly elevated CRP levels (> 40mg/l and NT-proBNP levels > 300) the adjusted HR for 30-day all-cause mortality was 0.56 (95% CI 0.20 – 1.55, p = 0.27) and, while not significant, this was 7.7% lower in corticosteroid-treated patients.
The authors concluded that their analysis suggested that corticosteroid use in those with acute heart failure might have the potential to improve outcomes, especially among those with inflammatory activation, but further larger, prospective studies should be considered to assess any potential in patients with the highest degree of inflammation.
Citation
Miro O et al. Effect of systemic corticosteroid therapy for acute heart failure patients with elevated C‐reactive protein ESC Heart Fail 2022